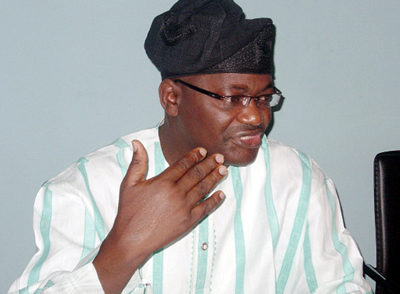 GNI
Isiaka told journalists in Ado Ekiti, Ekiti State shortly after the meeting of leaders of the PDP in the South West, that the results of the election as declared by the Independent National Electoral Commission was not a true reflection of the people's wish
The candidate of the Peoples Democratic Party in the April 11 governorship election in Ogun State, Chief Gboyega Nasir Isiaka, has said he decided to challenge the outcome of the election won by the incumbent and candidate of the All Progressives Congress, Senator Ibikunle Amosun, in the interest of the people of the state.
Isiaka told journalists in Ado Ekiti, Ekiti State shortly after the meeting of leaders of the PDP in the South West, that the results of the election as declared by the Independent National Electoral Commission was not a true reflection of the people's wish.
Also reacting to the mass defection of some PDP members to the APC since the party lost the presidential election to APC's candidate, General Mohammadu Buhari, Isiaka expressed optimism that the defection would not affect the party's chances in future elections.
Isiaka told his loyalists to remain calm, adding that all electoral fraud perpetrated during the said election would be made public.
The candidate alleged how Amosun conspired with certain individuals he did not reveal their identities to undermine electoral process.
Isiaka said: "You need to be careful about what you say in public.
"But I think the general thing is that there is gross manipulation of the election and we have done our own findings in this regards.
"And we have come to the conclusion that we are not going to allow the electoral fraud to stand.
"There are a lot of cases of people using all manners of Permanent Voter Cards from various sources, which I am sure they will explain at the tribunal.
"And so many other things that are contrary to the Electoral Act.
"And for this reasons, I feel this is the mandate freely given by the people of Ogun State.
"So I as an individual cannot allow it go like that.
"So, we must stand up to defend the position of Ogun people in that election."
Make money online from Konga Affiliate Program. Many Nigerians Are Already Doing So. Don't Be Left Out. Join Today!
Pay Less, Get More on Web Hosting: Speed, Security, 100% Uptime & Excellent Support
Want to receive payments from customers or donations from people on your website or blog? Click here.
Need Reliable, Affordable & Fast Delivery Bulksms Service? Delivers less than 1s. Click here.